San Antonio Employee Relocation Services
The way we handle the relocation of your San Antonio employees benefits your business precisely because it benefits them.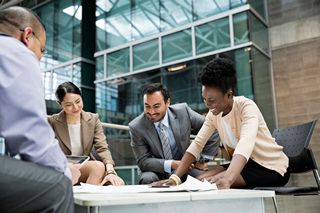 San Antonio employee relocation is still another of our special skills here at A-1 Freeman Moving Group. Our intent is to make each and every corporate relocation a smooth, gratifying experience for the firm that's engaged us. A essential way we measure our achievement of this is how pleasant an experience we've made the move for each company's employees. After all, their satisfaction and their employer's are very much related. To assure the satisfaction of everyone engaged in your corporate relocation, we offer a complete array of moving services. Our strategy involves catering in every way to your firm's productivity & operational needs while also looking to your employees' personal needs. In the first place, our having refined the corporate relocation process over the years we've been moving companies around helps decidedly to eliminate the dread and drama of moving.
EMPLOYEE RELOCATION 'SILENT' SERVICES
For further details on our "Silent" Employee Relocation Services and how they can best serve your corporate relocation, review our website. Then call A-1 Freeman Moving Group. And you can always, without obligation ...
Request a free quote