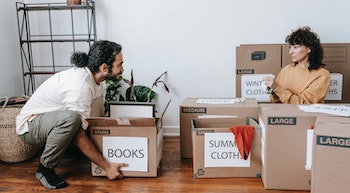 By Julie DeLong, A-1 Freeman Moving Group
Whether you are doing it by yourself or working with a
professional moving company in San Antonio
, moving is not just traumatic, but expensive. Chances are preserving a little bit of funds anywhere you can, is more than beneficial. Here are some recommendations that can help decrease your expenditures when moving to San Antonio.
Reduce Your Belongings
A frequent movement currently is minimalism: An intentional lifestyle that decreases the number of "things" within our lives. With regards to moving, why not make your fresh start, even more tidy by de-cluttering and downsizing the quantity of stuff you are moving?
Some well-known examples of items that you could give consideration to getting rid of consist of:
· Unwanted clothes
· Old products (including cosmetic products, food items, and so forth.)
· Old electronic devices
· Used pieces of furniture
· Jars and glass bottles
· Receipts
· Magazines/Papers/Books
· Broken playthings, tools, as well as other worn out things around the house
· Stashed away knick knacks
· Non-working kitchen appliances
Naturally, the thought of just tossing a few of these belongings could raise your blood pressure but you will not necessarily have to dispose of them. It is possible to give electronics to schools or any other charitable groups. Books could be given to universities, your local library, or schools. And since a good number of us own far too many clothes, odds are you are not going to feel awful about contributing a number of those only-worn-once articles of clothing to a neighborhood nonprofit or consignment retailer.
Additionally, when you have a number of items of value, you'll be able to counterbalance a bit of your moving costs by having a garage/yard sale. This will not only decrease the items you will need to move, however you're going to feel a lot better realizing you are genuinely beginning clean within your new place.
Drive Your Own Car
Having a moving company in San Antonio transport your automobile can be an unnecessary expense to you. If you choose, rather, to drive your own automobile, it comes along with several bonuses. First off, you'll be able to take a load of several of your more treasured things which are probably not great for a moving truck which include plants and also other personal items. Second of all, driving to your new location allows you to observe the surroundings and get to know the region you're transferring to.
Needless to say, driving your own vehicle may not be the most feasible selection in each and every instance (just like when there is more than one automobile, for example) in that case, you'll want to choose a moving company who is competent with these sorts of moves.
Load up a Few Things Yourself
Depending on whether you're conducting a local or long-distance move and the quantity of stuff you have, the price of packing can vary greatly. It is possible to substantially reduce the cost of your move with packing some of your things on your own.
We advise creating a first-day box packed with basics you will want for the new house, the first day you get there. This is certainly a thing you ought to pack for yourself as you know best, the things you will most need that primary night in your new residence.
Other items you can look at packing include:
· Towels/Bed sheets
· Pillows
· Books
· Pots and pans
· Garments
· Toiletries
· Cleaning supplies
· Pet supplies
· Toys
· Knick-Knacks
While packing your own items, make sure you use suitable cartons, strong tape, and a marker to write down the belongings in the boxes so you recognize which room in your home they belong in. Many moving companies in San Antonio offer various tiers of packing service, so be sure and talk with your mover to work out which tier will best meet your needs as well as your budget.
Mind the Time
Did you know professional movers typically request different fees based on the time of the year? It's true, during their busy time, May through August, a peak season upcharge is added. Obviously, the time of year you move, might not be anything you can choose for various factors however if you're able, think about a move during the slower seasons - from September through April - while demand is usually smallest.
Moving can be an exceptional time and lowering costs on the charges is simply one approach to allow it to be better still. If you'd like to learn more concerning A-1 Freeman Moving Group's moving services in San Antonio, touch base with us today for more information about how we can assist you in getting to wherever you are going.
Request a free quote