Moving Blankets are a Life Saver on Moving Day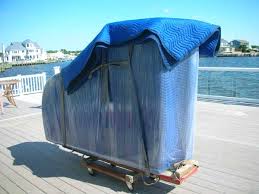 By Julie DeLong, A-1 Freeman Moving Group
When preparing for a move, a lot of people set a date, call a
moving company in San Antonio
, and buy moving resources. Cartons, tape, and packing paper are frequently towards the top of the list, succeeded by a roll of bubble wrap that the children will attempt to take away to hop on.
Although these must-have supplies are essential, making sure you've got moving blankets available will also help make your moving day to proceed smoothly.
Moving blankets are the key to making sure your beds, bookcases, and also the treasured bronze statue of your cat, Morris, turn up securely at their new home. Consider them being the good friends which go the extra mile along with your household furniture, keeping your belongings shielded from the damage that quite often occurs on moving day. Your local moving company in San Antonio could very well work out how many blankets you really need to protect your big items.
When Do You Use Moving Blankets?
Local and long-distance professional movers in San Antonio make use of moving blankets with every moving job, and you should as well. Utilize moving blankets to wrap your most expensive items and keep them free from danger, secure, and clean when they are being moved. As these cushioned cloths are designed to absorb shock, moving blankets could very well prevent your treasured coffee table or dining room chairs from being ruined throughout transit.
Moving blankets could also be used to protect your corners, banisters, and doorways throughout a move. Cover damage-prone locations in your home with moving blankets to supply a tier of protection as furniture as well as other things are being moved.
How Should I Use Them?
Furniture blankets are normally 6 to 7 feet each side and include various layers of filler materials (cotton, polyester, and also nylon) sewn together similar to a bedspread. Moving blankets are generally two-sided, usually having a lighter-colored side and a darker side. Utilize the lighter side of the blanket to wrap your things that require additional protection throughout the move. The darker side needs to face out.
When traveling a long distance, put additional moving blankets in the spaces between cartons and household furniture for preventing moving of belongings in the moving truck. For added protection, put plastic over your belongings if it is raining during your move, as moving blankets will not be waterproof.
Are Moving Blankets Worthwhile?
Unquestionably. They are a simple, economical approach to ready your things to be moved. Moving blankets are the ideal accessory to have on moving day for a couple of purposes:
· They not only protect your old tables from becoming banged up with dents, but they be sure that your urns, glass slippers, and lamps arrive at your storage unit or at your new residence in one piece.
· Moving blankets keep your nightstands free from dirt, dust, and debris, and minimizes the potential of your mirrors shattering throughout the move, preventing you against having 7 years of misfortune.
Moving day doesn't need to be upsetting. Call us today to be sure that your move is organized as well as stress-free. Our professional local and long-distance movers in San Antonio are knowledgeable, patient, and proficient, and are prepared to assist you with your local or cross-country moving undertaking.
Click below to get started with your Free Estimate.
Request a free quote